Kilbowie Road Mine Shaft
Clydebank, Scotland
Geoterra carry out urgent mine shaft survey following the collapse of a major road in Clydebank, Scotland.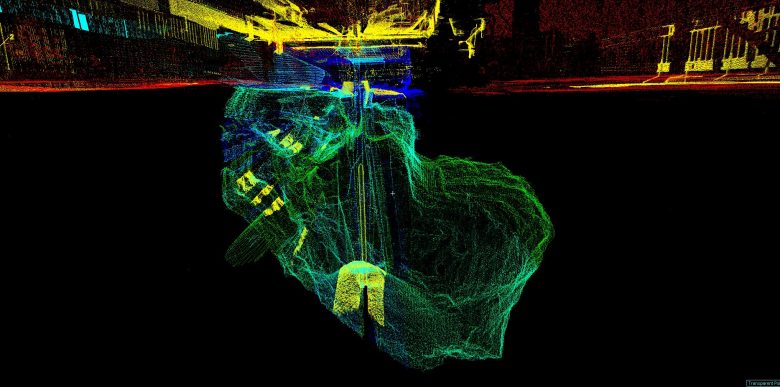 The Brief
Following a major ground collapse on Kilbowie Road in Clydebank, Geoterra were appointed by Soil Engineering and The Coal Authority to carry out an urgent mine shaft survey.
Kilbowie Road is a major artery road into Glasgow city. The collapse resulted in the immediate road closure.
The old mine shaft, which was not detailed on historical mining records, is understood to have been used to extract coal, limestone and iron ore over 100 years ago. The first discovery of this redundant mine shaft was made when a six-metre diameter hole became visible on the road surface.
The Solution
Using the Faro Focus 3D, we carried out a laser scan survey of the road surface, together with a C-ALS subsurface laser scan survey of the redundant mine shaft.
The resulting survey data showed a 200-cubic meter void positioned on top of the mine shaft which went down 56 meters. Adding to the complexity of the project, the survey also identified a number of utility services that would need to be protected and repaired during the remedial works.
The Deliverables
Geoterra provided Soil Engineering and The Coal Authority with geo-referenced laser scan survey data and a 3D model mapping the location of the mine shaft in relation to the road surface. Samples of the quality of the deliverables can be viewed in the gallery below. A subsurface laser scan survey was the only way to identify this unrecorded mine shaft beneath the road.
The proposed remedial works including shaft infilling and repairs to a fractured foul water sewer and storm water drain.