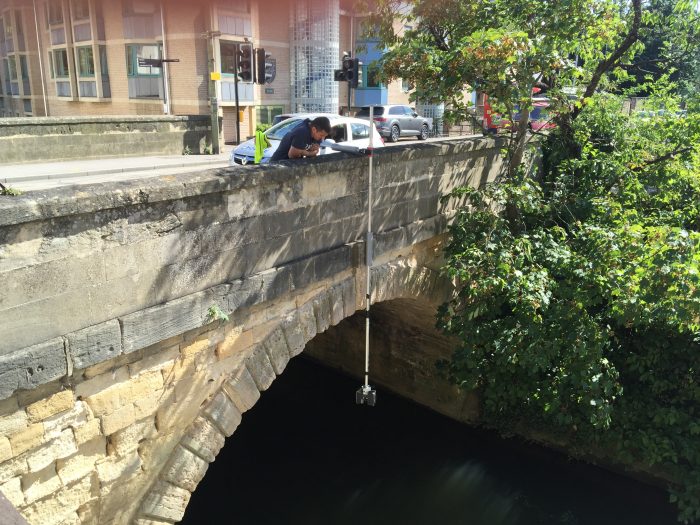 Geoterra innovation – new under bridge survey launched
We are pleased to announce the launch of a new under bridge laser scan survey solution.
The challenges of bridge surveys
Bridge structures over rivers and canals present many challenges for surveyors. The main problem is how to access those hidden areas underneath a bridge structure that we cannot see from the banks.
Yes, you can survey approx. 90% of the bridge structure but to do so, you would need sky hooks or carry out the scanning from an unstable rocky boat to fill in the missing detail.
Not the ideal solution, I think you would agree!
A new approach to under bridge surveying
Thanks to our survey practice innovation, we have come up with a survey solution that will provide you with 100% of the survey data you require of bridge structures – faster, more cost-effectively and with accuracy.
The new Geoterra under bridge laser scanning survey solution uses an adjustable tripod, fabricated piping, a clamp and inverted scanner bracket. Using this unique system, we can now provide a complete laser scan survey of a bridge structure from land.
Example of an under bridge laser scan survey
We recently put our new under bridge laser scanning survey system to the test for a project we carried out on behalf of Skanska and Oxford City Council. We provided the client with 100% of the laser scan deliverable point cloud model to enable bridge remediation works to be assessed and programmed. Our clients were delighted with the performance of the system and resulting deliverables, proving just how effective this system really is.
Under bridge survey enquiries
If you have any similar requirements for your next bridge project in the UK, please get in touch with Mark Hudson by email: info@geoterra.co.uk or call 01606 75755. We'll be happy to make your bridge model complete!