Chester Road
Manchester
A topographical and subsurface laser scan survey of a culvert at Chester Road, Manchester.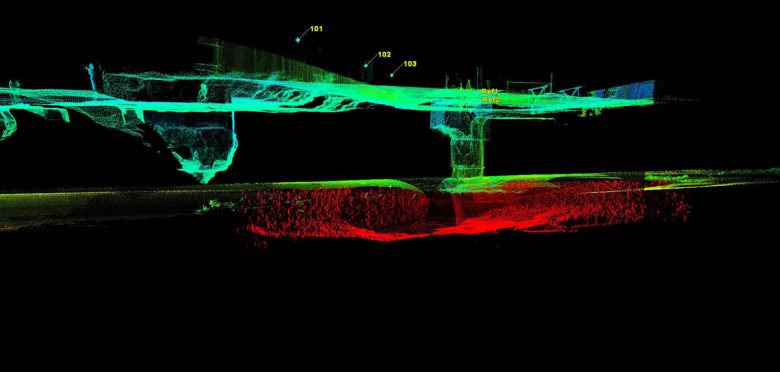 The Brief
Geoterra was appointed by a firm of building contractors to carry out a topographical survey, subsurface laser scan survey and multibeam sonar survey to identify the location and structure of a culvert at Chester Road in the City of Manchester, owned and maintained by Peel Holdings. This survey data was required in preparation for a future development project by the client.
The Solution
Using a specially commissioned inverted tripod system together with the Faro Focus 3D Laser Scanner, we carried out a subsurface laser scan survey of two manholes and the connecting culvert between. The manholes and culvert were geo-referenced to OSGB 36 and Newlyn level datum.
This was a particularly challenging survey as we only had a 300mm gap between the water and the crown of the culvert to carry out the laser scan survey.  Depth control on the lowering of the scanner was critical. The depth of water was over 2m, making it impossible to survey conventionally with total station on a tripod on the floor of the culvert.
Geoterra then deployed a Blueviewmultibeam sonar into the water to survey the remaining section of the culvert below the waterline to the base of the culvert to determine the full 3D shape of the structure.
The Deliverables
Geoterra provided the client with a complete set of geo-referenced 3D point cloud data and Navisworks RCS files of each manhole and connecting culvert, combining the laser scan and multibeam sonar data for further analysis and interpretation, together with an updated topographical survey plan, to plan detailed design of the future building works above.