Queensbury Tunnel Subsurface Laser Scan Survey
Halifax, West Yorkshire
A 3D subsurface laser scan survey of a disused former railway tunnel in Halifax, West Yorkshire for Aecom.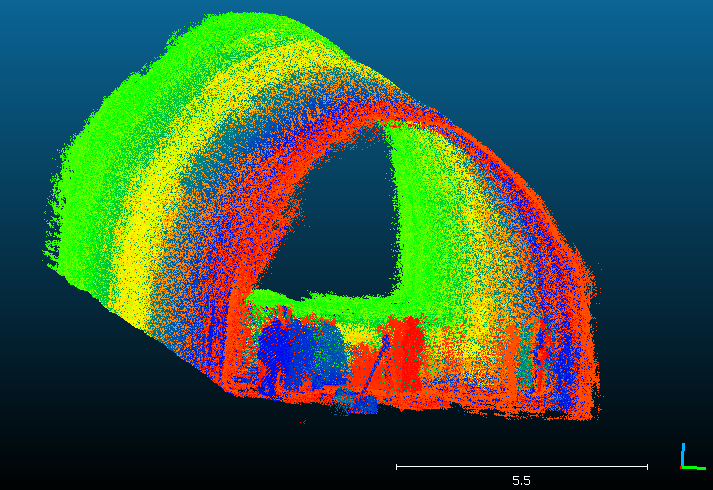 The Brief
Geoterra was appointed by Aecom to carry out a 3D laser scan survey of a disused former railway tunnel that ran approximately 3.5km underneath the town of Queensbury, connecting Holmfield and Queensbury itself.
The survey data was required by Aecom to enable them to assess the condition of the tunnel and the state of the collapse within the central exclusion zone as there is currently a campaign to reopen the tunnel as a cycleway for local residents. The exclusion zone was deemed unsafe to access due to the continual collapses, meaning traditional forms of laser scanning were inadequate.
The Solution
Geoterra's experienced geospatial engineers utilised a specialist GeoSLAM REVO mobile laser scanner mounted onto the GeoExplorer autonomous vehicle within the tunnel and carried out a 3D laser scan on the initial part of the exclusion zone. The vehicle was used to drive the scanner around the targets and into the exclusion zone towards the first collapse and the return to its original starting position. The features of the tunnel would be surveyed as well as the small collapse on the side of the tunnel. A 3D model of the exclusion zone was generated in order to show the parts of the tunnel that are inaccessible due to safety reasons.
In order to tie this 3D model in with the FARO data collected throughout the tunnel, a closed-loop traverse was undertaken from each end of the disused tunnel using a Leica Total Station along with targets placed on the tunnel walls at 100m intervals.
The surveys were geo-referenced to OSGB36 National Grid.  
The Deliverables
Geoterra provided Aecom with a geo-referenced 3D laser scan point cloud laser scan of the sidewall collapse within the initial part of the exclusion zone, in RCS/RCP & DXF and LAS for viewing as a 3D model in Navisworks and Cloud Compare.