Industrial Land UAV LiDAR and Photogrammetry Survey
Port Salford
A UAV LiDAR and photogrammetry survey of industrial and disused development land in Irlam, Manchester for Peel L&P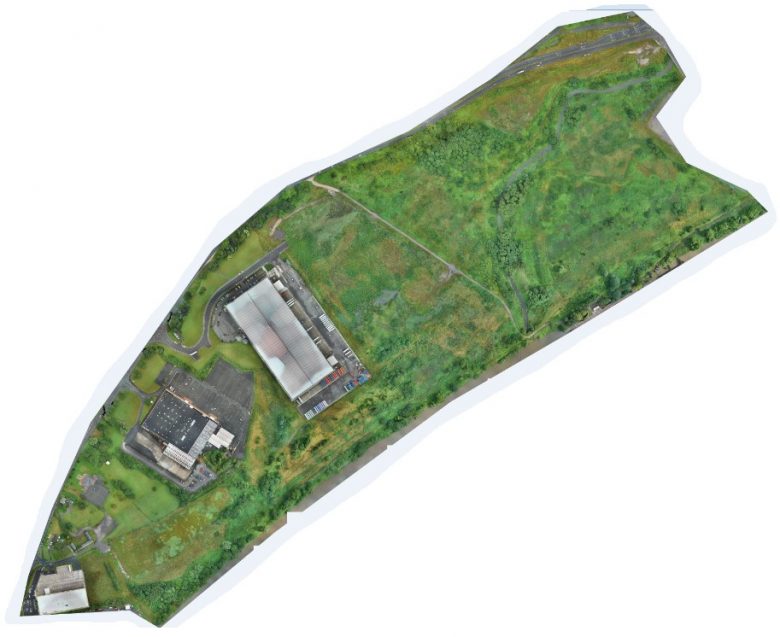 The Brief
Geoterra was appointed by Peel L&P to carry out a UAV survey using photogrammetry and low-level LiDAR techniques on industrial and heavily vegetated disused development land adjacent to the AJ Bell Stadium and Manchester Ship Canal in Port Salford, Irlam in Manchester.
The survey data was required by Peel L&P to enable them to generate a 3D model of the site in order to carry out a detailed land survey for the site and surrounding area prior to any potential development works.
The Solution
Geoterra's experienced geospatial engineers, in collaboration with our partners, FlyThru, utilised a bespoke heavy lift UAV equipped with a high definition DSLR camera and Velodyne LiDAR sensor to fly over both the industrial areas and adjoining disused land, generating a large multipath multi return laser scan point cloud. The point clouds were then post-processed to produce an extracted vegetation 'bare earth' Digital Terrain Model. A twin mapper UAV was used equipped with a high definition DSLR camera also to complete the photogrammetry survey of the same area flown with the UAV LiDAR.
Ground control points were set up across the site and surveyed to OSGB 36 National Grid.
The Deliverables
Geoterra provided Peel L&P with a range of key deliverables including a Digital Surface Model, Digital Elevation Model, Ortho-rectified mosaic photography TIF, contour plan and a 3D LiDAR point cloud in CSV and LAS formats.