Historic Coal Mine Subsurface Laser Scan Survey
Saltcoats, North Ayrshire
A combined above and below ground laser scan survey of a historic coal mine beneath Sharpill Road, in Saltcoats, North Ayrshire for The Coal Authority.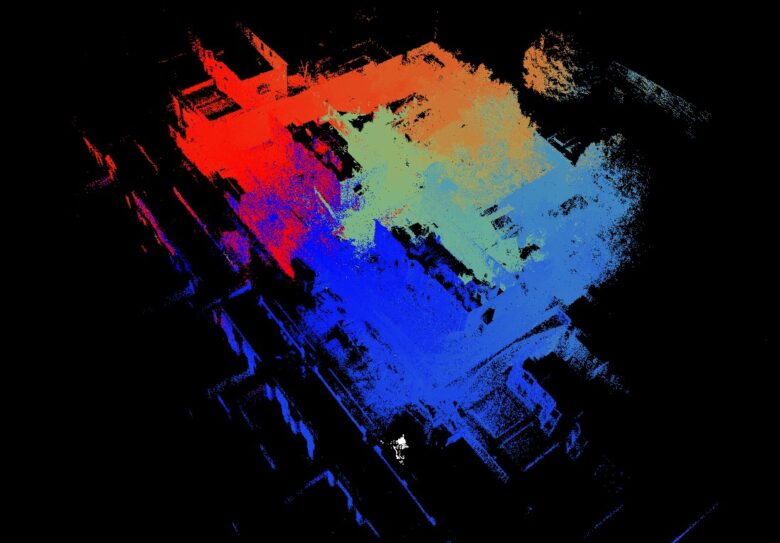 The Brief
Geoterra was appointed by The Coal Authority to determine the location, size and orientation of an historical coal mine void that had been discovered beneath a main road and its adjacent properties. 
The coal mine had been discovered on a residential street following a subsidence event. Four of the properties on that street had already been cited for demolition. The client wanted to understand the extent of the void before proceeding to treat the mine workings, make safe the site, and complete the demolition works. 
An above ground 3D laser scan survey, combined with a subsurface laser scan survey, and sonar survey was required by the client to provide the data necessary to make these informed decisions. 
The Solution 
Access to the historic coal mine void was provided by a 104mm hole which had been drilled vertically down from the surface by Soil Engineering. 
Our experienced geospatial engineers used a specialist C-ALS laser scanner to carry out a 3D laser scan survey of the void. 
A rudimentary video survey was also undertaken using the infrared camera on the C-ALS laser scanner.  
In addition, we completed a comprehensive surface laser scan survey of the site using the ZEBB REVO scanning system. This was used to tie-in the void with the surface locale and subsidence-damaged properties. 
The surveys were geo-referenced to OSTN 15 National Grid.  
The Deliverables  
Geoterra provided The Coal Authority with: 
A combined geo-referenced 3D laser scan point cloud of the void below Sharphill Road.

 

A combined geo-referenced 3D laser scan point cloud of the surface locale surrounding the damaged properties.

 

Ground movement for viewing in Navisworks.

 

An updated topographical survey plan.

 
We also provided the client with an accurate volume calculation of the void to enable them to determine safe access requirements before any remediation work commenced. 
Following this project, two further boreholes were to be drilled and surveyed to provide a full picture of the subsidence occurring along Sharphill Road in Saltcoats.