Subsurface Laser Scan and UAV Photogrammetry Survey of Air Raid Shelter
Orpington, Bromley
A combined above and below ground survey of a historic air raid shelter for M-AR and Bromley Council.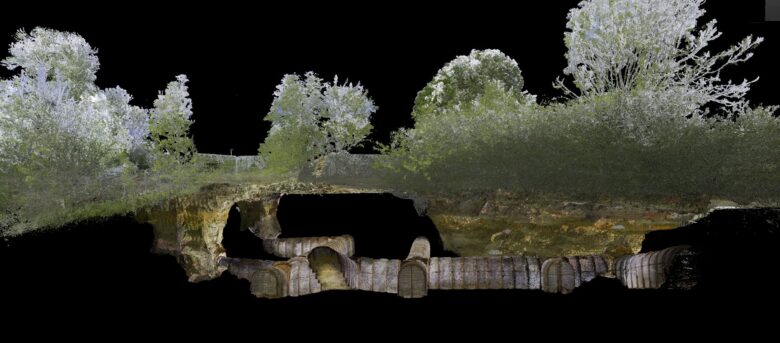 The Brief
Geoterra was appointed by M-AR and Bromley Council to carry out a 3D topographical laser scan survey above and below ground, as well as a remote UAV photographic survey of a historic air raid shelter. The air raid shelter had recently been discovered beneath a proposed residential site. The client required the survey data to assess the location and alignment of the air raid shelter complex located beneath the land proposed for building new houses. This data was also required to determine both the condition and clearance between the top of the shelter and the ground level above. M-AR was already in the process of clearing the site and carrying out groundworks in advancement of the new residential development construction, therefore, accurate mapping of the air raid shelter was essential. The client also required data to show the dimensions of the shelter so that they could perform calculations for the possible infilling of the historic structure using pre-mixed foam concrete.
The Solution
Geoterra installed geo-referenced laser scan targets adjacent to the pre-exposed air raid shelter access points. We then used a specialist Leica RTC 360 laser scanner to carry out a 3D laser scan survey of the surface locale to the shelter portals. Together with our partners, Flythrough, we then used the ELIOS 2 UAV to fly through the air raid shelter complex from three separate access points to take a series of videos. These videos would be used to create a 3D photogrammetry model during post-processing. By using both surveying techniques, we ensured that every feature of this historical complex would be surveyed in order to provide the client with a complete and accurate 3D model of the subterranean feature. The surveys were geo-referenced to OSGB OSTN15 National Grid.
The Deliverables 
Geoterra provided M-AR and Bromley Council together with the archaeologist with:
· A combined geo-referenced 3D laser scan point cloud model of the air raid shelter and surface locale – supplied in RCS, RCP and LAS for viewing in Navisworks.
· An updated topographical plan.
· A HD flythrough video.
· Approximate volume calculations of the complex