Dunford Bridge Drainage Culvert Survey
Dunford Bridge, South Yorkshire
A remote-access subsurface photogrammetry survey of a drainage culvert for WSP Consultant Engineers at Dunford Bridge in South Yorkshire.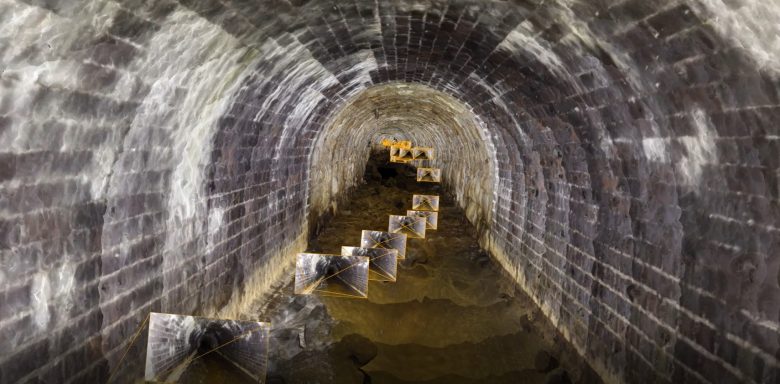 The Brief
Geoterra was appointed by WSP Consultant Engineers to carry out a 3D topographical survey of a confined space drainage culvert that runs directly underneath the Trans Pennine Way at Dunford Bridge in South Yorkshire.
The survey data was required to assess the location and alignment of the culvert as well as the clearance between the top of the culvert and the Trans Pennine Way above. National Grid was planning on relocating high voltage overhead lines to run through the culvert, therefore accurate mapping was required. The dimensions, integrity and any possible damage to the culvert were also assessed. At the time of survey, the tunnel contained a small amount of flowing water.
The Solution
Geoterra's experienced geospatial engineers installed geo-referenced laser scan targets at the culvert portals, then utilising a specialist Leica RTC 360 laser scanner, carried out a 3D laser scan at each portal and also part way inside the culvert from each portal.
Together with our partners Flythru, we used the ELIOS 2 UAV to fly through the culvert taking a series of videos that would be then used to create a 3D photogrammetry model during post-processing. The ELIOS 2 UAV enabled our pilots to carry out the survey without having to enter the confined space culvert, keeping our surveyors safe and also saving the client money with not having to use emergency back-up support teams.
The surveys were geo-referenced to OSGB OSTN15 National Grid. 
The Deliverables
Geoterra provided WSP Consultant Engineers with a geo-referenced 3D photogrammetry model of the culvert in RCS/RCP & DXF for viewing in Navisworks. We also provided an updated topographical surevey plan, cross-sections and HD flythrough video of the culvert for assessment of the structural condition.