Taylor's Boatyard Culvert Survey
Chester
A subsurface laser scan and topographical survey of a culvert and sinkhole collapse adjacent to Taylor's Boatyard on the Shropshire Union Canal for Canal & River Trust.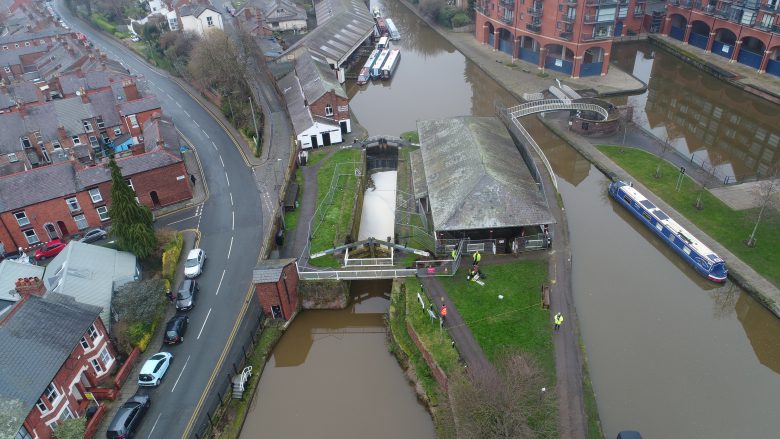 The Brief
Geoterra was appointed by the Canal & River Trust to carry out a 3D topographical laser subsurface scan survey of a sinkhole collapse above a culvert adjacent to Taylor's Boatyard drydock and the Shropshire Union Canal in Chester.
The survey data was required to confirm the location and alignment of the culvert from the drydock to the canal. The dimensions, integrity and extent of the damage to the culvert from the collapse was also assessed as no previous surveys had been carried out due to difficult access. At the time of the survey, the culvert contained a small amount of flowing water at the drydock end. The sinkhole collapse had occurred on the canal towpath directly above the middle of the culvert.
The Solution
Geoterra's experienced geospatial engineers utilised both a specialist FARO laser scanner to survey the culvert from within the drained drydock, as well as a GeoSLAM ZEB REVO laser scanner mounted on a backpack with a handheld unit to survey the surrounding locale. The ZEB REVO was also mounted onto both a bracket and lowered towards the culvert portal on the canal side and a pole and inserted into the collapsed section of the culvert. This multi scanner method was used in order to generate a complete 3D model of the drainage culvert and locale. A GoPro HD video camera was also mounted onto a metal pole and lowered into the collapsed sections of the culvert as well as the culvert portal by the canal side. This generated a series of HD videos to assess the current condition of the culvert visually.
The surveys were geo-referenced to OSGB36 National Grid.  
The Deliverables
Geoterra provided the Canal & River Trust with a combined geo-referenced 3D laser scan point cloud of the culvert as well as the surface locale surrounding the drydock, in RCS/RCP & DXF for viewing in Navisworks.  An updated topographical plan was also supplied after being extracted from the ZEB REVO data. Culvert condition videos were also provided in HD.