Salvesen Steps 3D Laser Scan Survey
Cramond, Edinburgh
A 3D surface laser scan and UAV LiDAR survey of a historic rock face along the River Almond in Edinburgh, Scotland for Edinburgh Council and SWECO Consulting Engineers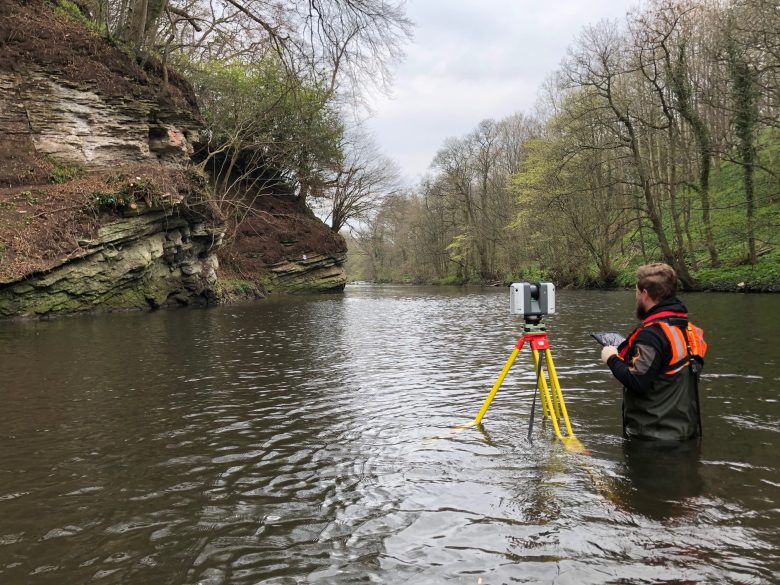 The Brief
Geoterra was appointed by Edinburgh Council and SWECO to carry out a highly detailed 3D laser scan and UAV LiDAR survey of a rock face and adjacent land that ran approximately 150m along the River Almond incorporating the Weir, Cramond Walkway and Salvesen Steps at Cramond, Edinburgh.
The survey data was required by Edinburgh Council and SWECO to enable them to assess the condition of the rock face, including fissures, bedding planes and faults which would allow them to carry out a rock mass classification examination in order to locate areas where rock anchor bolts could be affixed for the new pedestrian walkway. Currently the Cramond Walkway along the River Almond goes up and over the rocky outcrop at Salvesen Steps, but designs are in place to create a low-level pedestrian walkway that goes around the rock face at high river level.
The Solution
Geoterra's experienced geospatial engineers utilised a specialist Leica RTC 360 laser scanner set up within the River Almond adjacent to the rock face and carried out a 3D laser scan every 25m so that every feature of the cliff would be surveyed. 3D laser scans were also taken at both the river bank by Salvesen Steps and the Cramond Falls weir also, in order to generate a complete 3D model of the rock face and Cramond Walkway. Survey control was precisely installed by traversing the site from the weir to the rock face and also leveled. In order to scan the rock face and Salvesen Steps from above,  Geoterra's  engineers, in collaboration with our partners FlyThru, utilised a bespoke heavy lift UAV equipped with a high definition DSLR camera and Velodyne LiDAR sensor to fly over the walkway from the weir to Salvesen Steps generating a series of photographs. The photographs would then be used to generate a combined point cloud. Rock face videos were also generated using a DJI Phantom 4 UAV.
Ground control points were set up across the site and surveyed to OSTN15 National Grid.
The Deliverables
Geoterra provided Edinburgh Council and SWECO with a range of key deliverables including a combined geo-referenced 3D laser scan point cloud of the rock face and associated walkway, as well as a Digital Surface Model, Digital Elevation Model, Ortho-rectified mosaic photography, plus an extracted ground DTM from a vegetated DSM.