3D Laser Scan Survey of Victorian Brick-Built Chimney
Ellesmere Port, Cheshire
A 3D laser scan survey of the internal and external structure of a Victorian brick-built chimney at the National Waterways Museum to assess its condition.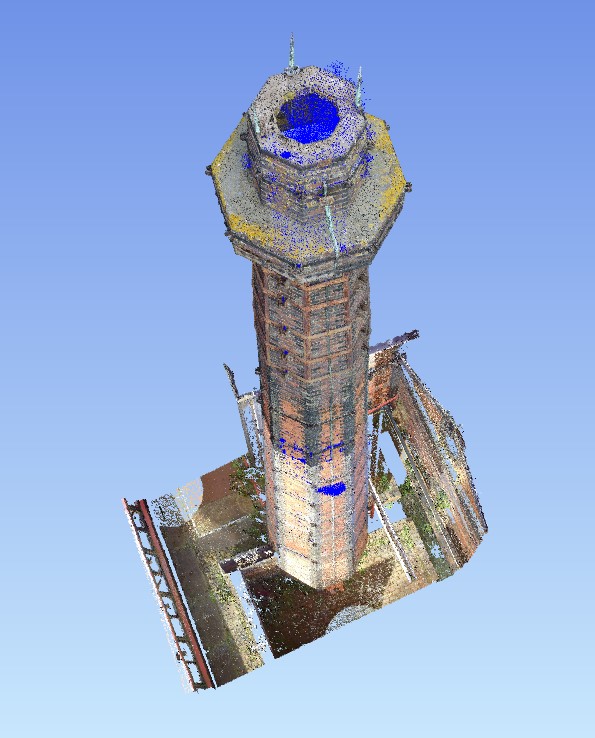 The Brief
Geoterra was appointed by The Canal and River Trust to carry out a 3D topographical laser scan survey both internally and externally of a historic Victorian brick-built chimney at the National Waterways Museum, Ellesmere Port, Cheshire.
The survey data was required to assess the dimensions, integrity, and any possible damage to the chimney both internally and externally as no previous surveys had been carried out internally and only visual inspections had taken place to the external sections of the chimney.
The Solution
Geoterra experienced geospatial engineers utilised both a specialist FARO laser scanner to survey the chimney externally as well as a GeoSLAM ZEB REVO laser scanner mounted on a custom-built rig with a handheld unit to survey the internal section of the chimney. The ZEB REVO scans were carried out by lowering the ZEB REVO scanner rig down within the chimney at a controlled speed and then pulling the rig back up also. The ZEB CAM was also attached to the rig to capture HD Video which could be overlaid onto the point cloud in post-processing. A ZEB REVO laser scan was also carried out around the locale. For the FARO scans, the scanner was set up at various locations around the chimney and adjacent buildings/canal and a 3D laser scan carried out so that every feature of the chimney would be surveyed. The FARO scanner was unable to scan above the upper ring from ground level therefore a UAV photogrammetry survey was also carried out. This allowed the top of the external chimney to be incorporated into the full point cloud.
The surveys were geo-referenced to OSGB36 National Grid. Access to the top of the chimney was provided by local steeplejacks.
The Deliverables
Geoterra provided The Canal and River Trust with a combined geo-referenced 3D laser scan point cloud of the chimney internally as well as externally and the surface locale, in RCS/RCP & DXF for viewing in  Navisworks. Chimney cross-sections were also provided as well as an updated topographical plan which was supplied after being extracted from the combined laser scan and photogrammetry data.