Sonar survey of a water-filled coal mine roadway beneath railway station
Willenhall, Staffordshire
An underground sonar survey of a flooded coal mine roadway beneath a site proposed for a new railway station.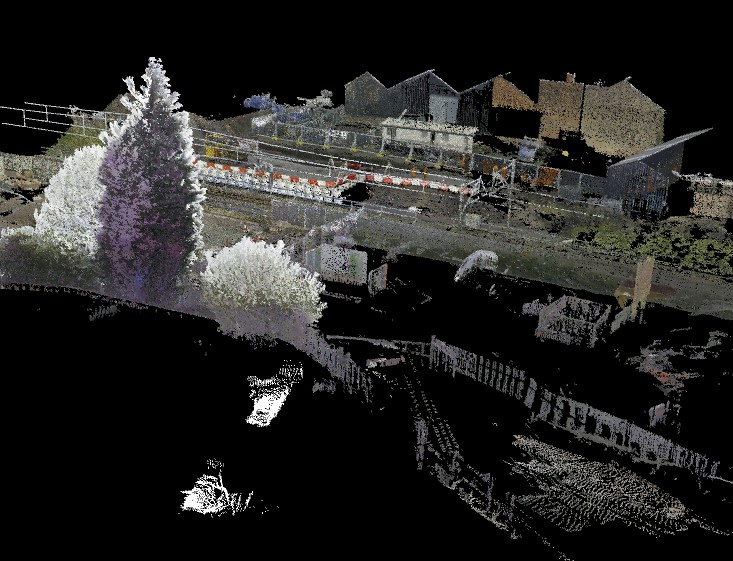 The Brief
A new railway station was due to be constructed in Willenhall, Staffordshire on the Wolverhampton to Walsall mainline.
Historic mine plans indicated that a coal mine roadway was situated directly beneath where the proposed new railway station was to be built. It was believed to be part of an upper coal seam running beneath the development site.
This presented a geotechnical hazard to the development without knowing the extent and condition of the coal roadway.
The Buckingham Group engaged Geoterra to survey the coal mine roadway, which was known to be flooded, to assess its dimensions and condition.
The Solution
Access to the void was via two 110mm diameter boreholes drilled vertically from the surface down into the coal roadway; one to the north side of the track and one to the south side and both outside of Network Rail's land boundaries.
Due to the coal mine roadway being flooded, we deployed a specialist multibeam sonar scanner to carry out this survey. A UK service we provide in partnership with submerged void and cavity surveying specialist, Flodim.
The sonar scanner was lowered into both boreholes to a depth of 28m and a georeferenced 3D sonar scan survey was completed of the submerged coal mine roadway.
We also carried out a georeferenced 3D laser scan survey using the Leica RTC360 3D Laser Scanner of the site compounds and development works.
Services Provided
The Deliverables
The client was provided with a georeferenced 3D point cloud of the two voids for viewing in Cloud Compare.
Both voids appeared to be partially backfilled and the roadway beneath the rail track was completely filled in.
An updated topographical plan showing the size and location of the voids, as well as a 3D mesh, was supplied to the client. This was to help them understand the condition of the void before any remediation work was undertaken.
A full survey report outlining the features of the void.