Subsurface Laser Scan Survey of Historic Lead Mine Shaft
Prestatyn, Denbighshire
A subsurface laser scan and HD video survey of an historic lead mine shaft for Geoinvestigate.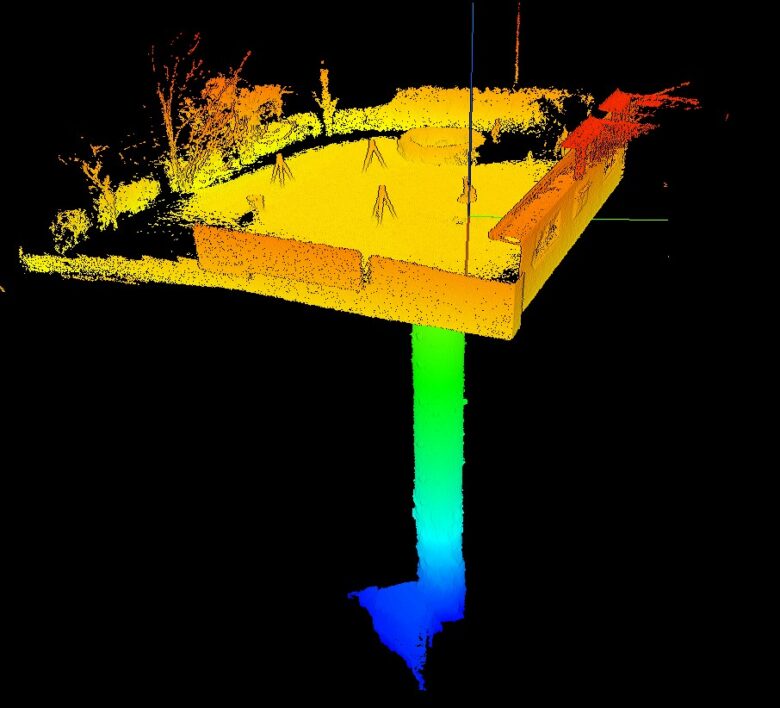 The Brief
Geoinvestigate appointed Geoterra to carry out a 3D subsurface laser scan and HD video survey of a historic lead mine shaft. The mine potentially dated back to the 1700s when the Talargoch mine was extracting lead ore. The lead mine had been discovered beneath a hillside within a residential garden that adjoined a large private property in Prestatyn.
The client required survey data to determine the depth, size, extent, and condition of the shaft due to its proximity to the residential property and to enable further work on the site to be completed.
The Solution
Geoterra's experienced geospatial engineers utilised a specialist GeoSLAM ZEB REVO laser scanner to carry out the surface laser scan.
Using a bespoke shaft bracket, complete with high-powered lighting, the laser scanner was then lowered down the mine shaft to a depth of approximately 32m in order to fully survey the shaft. Access was provided by a large metal manhole above the shaft allowing the scanner to be positioned in the centre of the shaft. For the HD 4k video survey, a GoPro camera was attached to the bespoke shaft bracket in place of the ZEB REVO laser scanner and once again it was lowered slowly down the shaft before being returned to the surface.
The survey was geo-referenced to OSGB OSTN15 National Grid.
The Deliverables
Geoterra provided Geoinvestigate with a combined fully geo-referenced 3D laser scan point cloud of the historic lead mine shaft and the surface locale around the residential property. The laser scans were provided in RCS/RCP, LAS and E57 formats for viewing as a 3D model in Navisworks. HD 4k videos of the shaft and lower horizontal adit were also provided.