Subsurface Bathymetric Sonar Survey of the River Irwell
Clippers Quay, Salford
A subsurface bathymetric sonar survey of the River Irwell for a potential pedestrian bridge crossing at Clippers Quay for Arcadis and Peel Ports.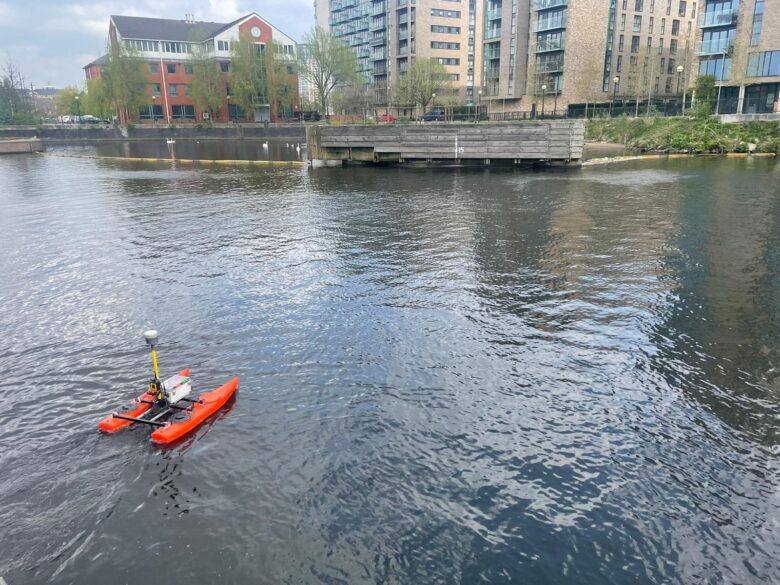 The Brief
Geoterra was appointed by clients Arcadis and Peel Ports to carry out a subsurface bathymetric sonar scan survey on the River Irwell at Clippers Quay in Salford.
The survey was required to help the clients to ascertain the riverbed levels and characteristics prior to design works for a potential new pedestrian bridge. A new pedestrian bridge at this location would provide easier access from Clippers Quay to the Wharfside metro station.
In addition, a surface laser scan survey was required so that accurate surface levels with the quay walls could be compiled in areas where the water level was too shallow for boat access.
For this project, we partnered with FC Geomatics, we used a specialist purpose-built dual hull remote operated boat equipped with a Trimble GPS and multibeam sonar scanner.
The ROB was used to survey the River Irwell in a 5m grid pattern to ensure full coverage of river levels throughout the site.
The surface laser scan survey was carried out using the GeoSLAM ZEB Horiozn RT laser scan system incorporating the quayside and surface locale on both the north and south sides of the quays.