Caeau Shaft and Milwr Tunnel
Halkyn, Flintshire
A subsurface laser scan survey of a historic tunnel collapse at a disused lead mine in North Wales for Wardell Armstrong.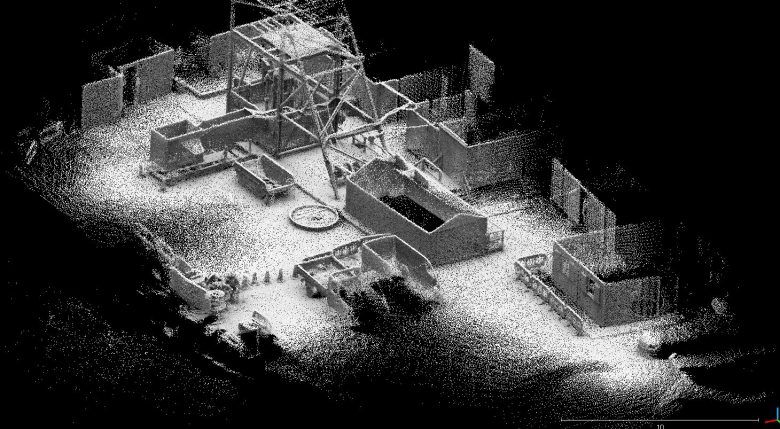 The Brief
Geoterra was appointed by Wardell Armstrong to carry out a 3D subsurface laser scan survey of the Milwr Tunnel at a disused lead mine. A 3D laser scan survey of the surface was also required of the locale around the Caeau Shaft at Halkyn in Flintshire.
The survey data was required to accurately assess the location, size, and shape of the collapse in the tunnel as traditional surveying methods had been inadequate. Once the collapse had been accurately modeled, the data was to be used to remediate the collapse using strata control.
The Solution
Geoterra's experienced geospatial engineers utilised the specialist GeoSLAM ZEB REVO laser scanner mounted on a backpack with a handheld unit to carry out the surface laser scan survey of the site. The scan was carried out by walking from a baseline around the workings and back again. The same scanner was then mounted onto a backpack without the handheld unit and a laser scan of the partially collapsed tunnel and stables area was carried out. The scan was completed by walking from a baseline by the shaft in the stables area and heading upstream towards the historic collapse before returning to the stables and then heading downstream.
The Deliverables
Geoterra provided Wardell Armstrong with a geo-referenced 3D laser scan point cloud of both the surface and the tunnel as well as an updated topographical survey plan. The laser scans were provided in RCS/RCP & DXF for viewing as a 3D model in Navisworks. Cross sections of the tunnel were also generated at 1m intervals.
Geoterra provided the client with the following surveying services: