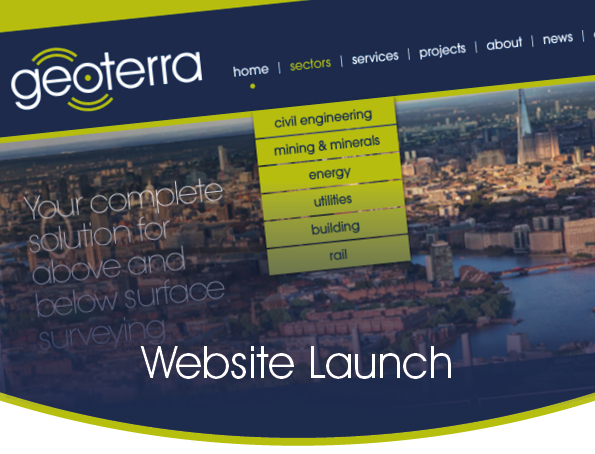 Double celebrations for chartered land surveyors Geoterra!
It gives us great pleasure to officially announce the launch of the new Geoterra website: geoterra.co.uk.
What's more, we are launching this new site as we celebrate our first year in business – and what a year it has been for our team of land surveyors and geospatial engineers!
Let's take a look at some of the highlights from the past twelve months:
We landed our first survey project in August 2015 for Wardell Armstrong. This was to carry out a subsurface laser scan survey of Caeau Shaft at Milwr Tunnel in North Wales.
We announced our first strategic partnership with Skycap (now Skeye). This partnership extends our aerial surveying and inspection capabilities.
We have been up and down the country carrying out subsurface laser scan surveys of voids, cavities and sink holes on behalf of the UK's leading consulting engineers and government bodies.
We formed another strategic partnership with Formby Surveys. This partnership will offer clients access to a wider range of high-end building surveying services such as Measured Building Surveys, 3D Laser Scan Surveys, 3D Modelling and Revit Modelling, through to Right of Light Surveys.
We have added a number of new surveying services to our offering including HD CCTV Surveys, Satellite and Structural Deformation Monitoring and Multi-Beam Sonar Surveys. This is to ensure that we remain at the forefront of surveying technology, innovation and practices.
We have been successful in securing projects with leading players in the UK construction industry. Clients include: WSP Group, Skanska, Arcadis, Costain, Bachy Soletanche Group and Peter Brett Associates to name but a few.
We were also proud to present and exhibit at Geotechica 2016.
Take a tour of our new website
You can of course find out more about all of our exciting news and developments on this our new website but before you do, we would invite you to take a quick tour of the site:
The launch of our new website is just the beginning. We will be regularly updating the site with news and case studies so make sure you come back to us. 
We welcome any feedback you have and are open to suggestions for articles or any other information you would like to see featured on the site – simply email: info@geoterra.co.uk.
In the meantime, feel free to get in touch if you would like to discuss your surveying requirements or to request a quotation. Call us on 01606 75755.