Subsurface laser scan survey of sinkhole in playing field
Wooburn Green, Buckinghamshire
A subsurface laser scan survey of a sinkhole discovered in a playing field for Wooburn & Bourne End Parish Council and Buckinghamshire County Council.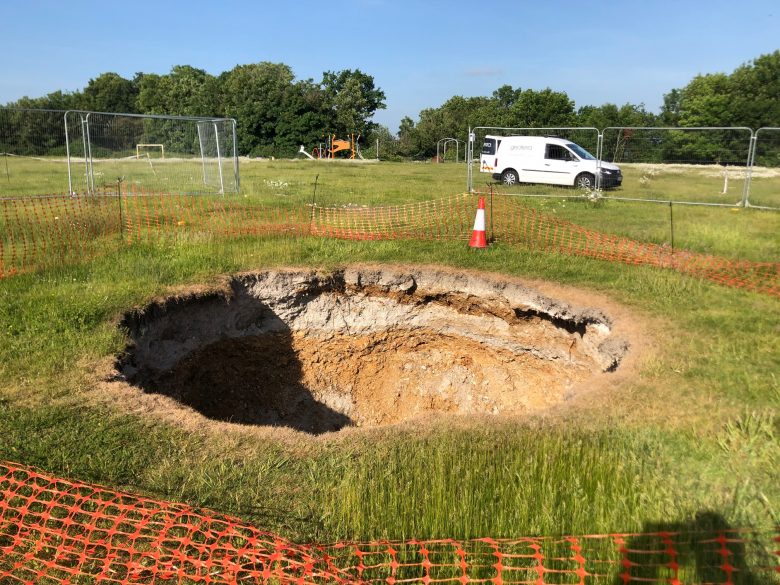 The Brief
Geoterra was appointed by Wooburn & Bourne End Parish Council to carry out a 3D subsurface laser scan and video survey of a recently discovered sinkhole in a playing field.
A 3D laser surface survey scan was also required of the locale around the sinkhole. The site was formerly used for making bricks with clay being excavated from a deep bell pit for the manufacturing process. When the site was decommissioned,  the area was backfilled with waste. Army sappers were then brought in and covered the site with soil to create a playing field. Seemingly the bell pit had been backfilled until a sinkhole appeared in February 2020.
Survey data was required to assess the depth, size, and extents of the sinkhole and bell pit.  A full geophysical survey of the playing field area was also carried out by Terradat to locate any further sinkholes or old mining features such as shafts and additional bell pits.
The Solution
Geoterra's experienced geospatial engineers utilised a specialist GeoSLAM ZEB REVO laser scanner, combined with a ZEB Cam and carried out a surface laser scan. The same scanner was then lowered down into the centre of the void with access provided by a long reach boom arm from a portable MEWP.  Using a bespoke shaft bracket, complete with high-powered lighting the scanner was lowered to a depth of 45m in order to fully survey the sinkhole and bell pit. The survey was geo-referenced to OSGB OSTN15 National Grid.
The Deliverables
Geoterra provided Wooburn & Bourne End Parish Council and Buckinghamshire Country Council with a combined geo-referenced 3D laser scan point cloud and HD video of both the surface and the void. The laser scans were provided in RCS/RCP and LAS formats for viewing as a 3D model in Navisworks. A mesh model was created and a volume of the void was also calculated. The results from the laser scan survey and geophysics survey could then be analysed by consultant engineers to determine the best possible remediation solution.
Video supplied courtesy of GeoSLAM