UAV photogrammetry survey of St John's Church
Hartford, Northwich
A UAV photogrammetry survey of St John's Church and the surrounding churchyard at Hartford, Cheshire for St Johns Church Parish Council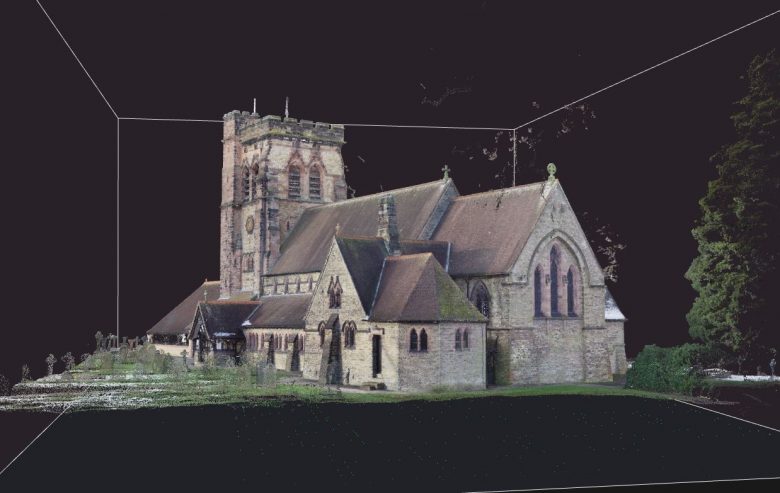 The Brief
Geoterra was invited by St John's Church Parish Council to carry out a UAV photogrammetry survey of the historic sandstone church. It was built in 1873, with the tower subsequently added in 1887 and a new modern extension completed in 1998 located within a large churchyard in Hartford, Northwich, Cheshire.
The survey data was required by St Johns Church Parish Council to accurately depict their church and grounds in the form of a 3D model which could be used on their website also. The aerial UAV photogrammetry survey and subsequent 3D model could also be used to assess the recent renovation and refurbishment works carried out to the tower roof, an area not usually seen by the public eye.
The Solution
Geoterra's experienced geospatial engineers utilised a DJI Phantom 4 UAV equipped with a high definition DSLR camera to fly over both the church and adjoining churchyard area generating a series of photographs for the aerial photogrammetry part of the survey.
The DJI Phantom 4 UAV was then used to fly around the church itself, including the tower and everywhere physically possible at a distance of 10m from the building taking a series of photographs which will then be used to accurately model the church in 3D along with the aerial UAV survey during post-processing. The images will be pieced together using Reality Capture to generate a full 3D model of St John's Church in virtual reality.
Finally, the UAV was used to capture a series of photographs showing the church and the surrounding area also.
The Deliverables
Geoterra provided St John's Church Parish Council with a series of UAV HD images of the church and churchyard as well as an accurate 3D model of the church also for viewing as a .wmv file. A video flythrough of the 3D model was also created and supplied to the client.